CEO's Report – Cyberpark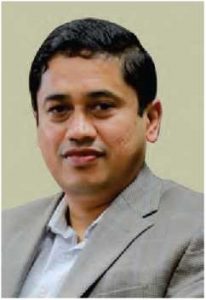 Cyberpark Kozhikode, promoted by Govt, of Kerala under the Information Technology Department, was established in the year 2009. The Cyberpark was set up with an objective to provide cost- effective and top-of-the-line infrastructure to the IT/ITES investors and thereby encourage, promote, and boost the export of software/ software services, which would, in turn, generate employment opportunities in the Malabar region. It is the responsibility of Cyberpark to interface between Govt, and the industry, interact with potential investors, strengthen the IT/ ITES industry bases, hold promotional campaigns, and develop Human Resources for IT SITES.
The IT sector's adaptable work culture was clearly demonstrated in the pandemic. Despite the initial confusion, companies in Cyberpark successfully switched from an Office based model to Workfrom Home and Hybrid models. Though the Covid-19 pandemic posed an enormous challenge to the IT/ITES industry, Cyberpark Kozhikode managed to attract new companies to its campus. 26 new companies came on board during the last year and nearly 40,000 sq.ft of office space was allocated to them. Apart from the newcomers, existing companies too posted excellent turn over enabling them to expand their business in the park. As part of the expansion
plans, 5628 sq.ft of office space was allocated to 4 existing companies in Cyberpark. The park which began its operations in 2014 with just 4 companies now has 58 IT & ITES companies, providing direct employment to over nearly 1000 people.
Software exports from Cyberpark saw a 77% increase from INR 147.6 million in FY 2019-20 to INR 261.6 million in FY 2020-21. The Gross Revenue also saw a substantial spike in the last financial year as the revenue earnings rose by INR 8.2 million. This is mainly on account of fresh lease agreements with 18 new companies. The fresh engagements have fetched us an additional operating income of INR 6.8 Lakhs/month. The total operating expense is 54% of the total revenue, leaving behind a net profit of 46%.
The Government support for the industry with robust, stakeholder-friendly policy interventions, state-of-the-art infrastructure and encouragement of start-ups have been instrumental for these positive results. This along with the developmental vision of the Government has played a huge role in orienting Kerala ITtowards the future.
John M Thomas Chief Executive Officer