IT Secretary's Message – Cyberpark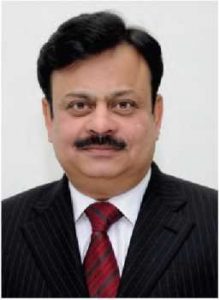 The year 2020-21 was a year of disruptions across the globe especially due to COVID-19. It changed the way businesses were thought of and conducted. The changed environment with 'Work from Home has become the 'new normal. However, work and life in Kerala's IT Parks were efficient and seamless during the year of the pandemic. This is a tribute to the state-of-the-art IT infrastructure and the empowering economic climate that prevails in the State. Credit goes to the Kerala IT Parks, which stood as a great support system for its IT community by rolling out timely resurgent measures to withstand and re-coup business at these challenging times.
We have weathered the crisis and found novel ways to emerge stronger. From remote working to hybrid work models, we have shown remarkable resilience and enterprise. The fact that space in the three major IT Parks in the State is still in high demand is proof. The governments generous investments and timely initiatives to set up accelerators, incubators, future technology labs, and fab labs is a boon for anyone who is looking for a fail-proof future.
Future is BIG  Kerala IT Parks offer a single window to a world of opportunities for IT Companies, Professionals, Investors, Developers, and Service Providers. We have one of the worlds greenest IT environs and emerging talents in the latest technologies like loT, Blockchain, Al, Cyber Security, Space Tech, and Med Tech. We offer leading technologies that are shaping the future like Al, 5G, cloud, big data, cybersecurity, blockchain, and quantum computing.
The IT sector's impressive performance in a dreary global economic landscape spotlights its strong fundamentals. Many new IT development projects have seen their completion. These developments will create jobs in the future. It will also help to amplify the potential growth opportunities to prospective IT investors. It is quite heartening to see the software exports from Kerala IT Parks touching 15,000 crores in FY2020-21. The success of the IT sector this year can be attributed to its agility and flexibility in coping with the challenges posed by the pandemic.
We look forward to this as a great opportunity to increase our entrepreneurial and technology talent base, efforts to build strategic new partnerships and to develop core competencies in new technologies will, of course, continue as before. The IT sector has proved its ability to face the toughest of times.
Biswanath Sinha IAS
Principal Secretary (Electronics & IT)
Chairman-Executive Council