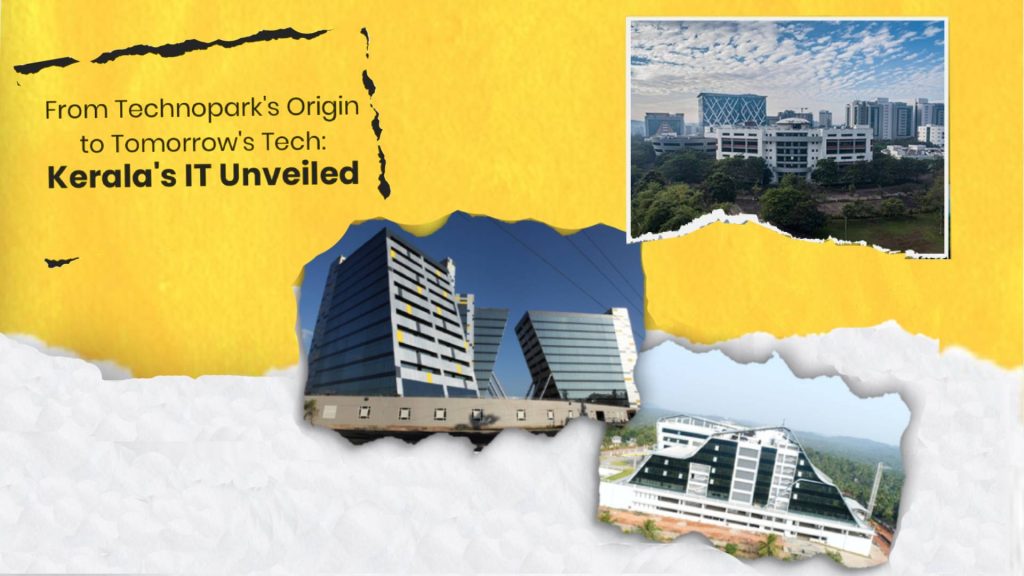 Kerala's journey in the IT sector unfolds as a captivating tale of technological prowess, visionary breakthroughs, and a commitment to a connected future. In this blog, we embark on a time-traveling adventure, delving into the rich history of Information Technology in the picturesque landscapes of God's Own Country.
The Genesis:
The narrative begins with the establishment of Technopark in Thiruvananthapuram in 1990, marking the dawn of Kerala's foray into the IT domain. Pioneering as India's first technology park, Technopark laid the foundation for the state's ascendancy in the IT sector. From its modest beginnings, it has transformed into a sprawling ecosystem, hosting an array of national and international firms. The state's government, recognizing the potential, introduced a comprehensive IT policy in 2001, offering incentives such as tax benefits and infrastructure support to propel IT industry growth.
Expansion and Consolidation:
Building on Technopark's triumph, Infopark emerged in Kochi in 2004, solidifying Kerala's prominence on the IT map. Infopark's strategic location, cutting-edge infrastructure, and conducive business environment attracted a multitude of IT giants, startups, and entrepreneurs. The success replicated with the establishment of Cyberpark in Kozhikode and expansions with Infopark Thrissur (Koratty), Infopark Cherthala, and Technopark Kollam.
Startups and Innovation:
Kerala's IT narrative extends beyond tech parks, showcasing a dynamic entrepreneurial spirit and a culture of innovation. The state nurtures a thriving startup ecosystem, witnessing ventures blossom in diverse sectors like healthcare, education technology, and software development. The Kerala Startup Mission (KSUM) plays a pivotal role, offering crucial support, mentorship, and funding avenues for technology startups.
Human Capital:
A significant contribution to Kerala's IT success is its robust human capital. Boasting a high literacy rate and a skilled workforce, the state produces talented professionals in software development, data science, and cybersecurity. The emphasis on education and continuous learning fuels Kerala's triumph in the knowledge-based industry.
Government Initiatives:
The Kerala government actively fosters IT growth through various initiatives, such as Single Window Clearance for IT projects, financial incentives, and support for skill development programs. Notably, the recent Workcations project in association with KTDC aims to enhance the work-life balance for professionals.
Emerging Technologies:
Kerala doesn't merely keep pace; it pioneers in emerging technologies. Actively engaging in Artificial Intelligence, Blockchain, and Internet of Things, the state positions itself at the forefront of technological innovation.
Future Prospects:
According to Chief Minister Pinarayi Vijayan, Kerala's IT sector witnessed a remarkable surge, with IT exports reaching ?85,540 crore from 2016 to 2023. The job market experienced significant growth, creating 62,000 jobs in contrast to the 26,000 generated during 2011-2016. The IT infrastructure expanded substantially, reaching 7,344,527 sq. ft. during 2016-2023. This monumental progress highlights Kerala's dedication to innovation and progress, setting the stage for an even more promising future. And that is not all. Be it the ongoing Quad project in Thiruvananthapuram, to establishment of new parks – the government is putting all its might to promote Kerala as an IT hub.
E-Governance and Skill Development:
Kerala actively invests in e-governance projects, aiming to enhance public services' accessibility and efficiency through digital platforms. Furthermore, the state prioritizes IT education and training programs, ensuring its workforce is equipped with the skills demanded by the evolving IT job market.
Join us in celebrating Kerala's achievements and embracing the limitless potential that our state holds in the dynamic world of Information Technology!